XR-technology for digitizing development, training & service
The use of virtual and augmented reality technology in healthcare accelerates development and enables innovative solutions and products.
VR and AR offer enormous potential to revolutionize healthcare
Whether as a virtual training system for medical professionals, for the analysis of virtual prototypes in simulated clinical situations, as an assistance function by overlaying image and patient data or in the maintenance of medical devices – the use of virtual and augmented reality technology in healthcare can help medical staff perform workflows more effectively, reduce errors and enable better patient care. Even in the development of medical devices, assessing the feasibility of prototypes in a virtual environment can reduce development risks, costs, and time-to-market for the product.
Realistic environments for simulating and planning surgical procedures
Virtual reality (VR) enables the training of clinical procedures as well as the interaction with medical devices in a virtual, realistic environment. In this way, complicated or even unfamiliar procedures can be safely tested, planned and trained. This is also possible in a multi-user scenario for collaborative team interaction.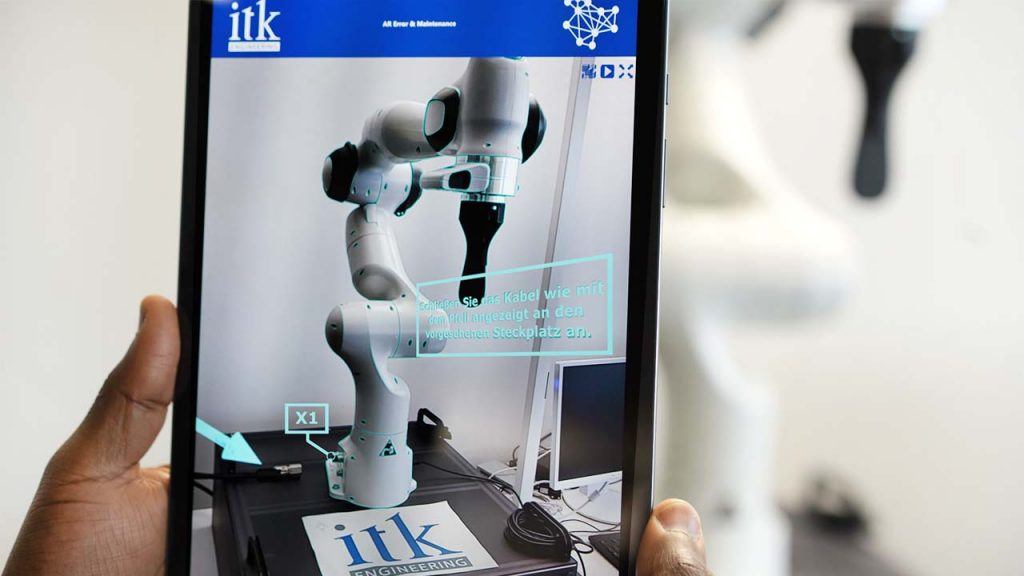 Reduced time and cost for support and maintenance
Augmented reality (AR) can be used in service to support maintenance staff in easily identifying and rectifying faults during the operation and installation of medical devices. In this example, an error message is first shown as a QR code on a display. After scanning the code, initial information on the cause of the error is provided via AR, followed by helpful, three-dimensional contextual instructions for troubleshooting via tablet.
Individual extended reality (XR) solutions
We are your partner throughout all development stages: from conception to implementation to system maintenance. In doing so, we rely on state-of-the-art hardware and tools.
Virtual prototyping for concept evaluation or usability studies
VR simulators for training and teaching purposes
AR-based assistance systems for doctors or service technicians
Experience in XR software development
Tools: Unity, Unreal Engine
Mobiles VR, e.g., with Oculus Quest 2, Oculus Quest Pro
PC VR, e.g., with HTC Vive Pro, Valve Index, Oculus Quest Link
AR, with Hololens 2, Android and iOS tablets and smartphones