Factory simulation
Simulations serve to optimize production and logistics processes: Manufacturing and logistics processes are often extremely complex. For good reason – they have to accommodate many variants and be very versatile. Despite – or perhaps even because of – this complexity, many decisions made in this domain are rooted on experience or reached with rudimentary tools.
Potential of factory simulations
Which production unit is best equipped to manufacture which product? What type of manufacturing and logistics staffing schedule is most productive in the event of unscheduled disruptions? These typical questions are best answered with data-based simulations.
We can map your entire value chain to a digital twin, help you pinpoint bottlenecks, and optimize the design of your processes throughout the factory or for individual machines and systems. Building on the insights gained with our simulation, we will work with you to develop solutions that boost productivity.
Setting up a simulation requires a lot of time and expert knowledge. This is where our concept of automated simulation is rooted. With the help of our broad methodological and specialist expertise, we are able to integrate simulation into the customer's production systems and IT landscape, making it an everyday tool. This reduces the time required to create a specific simulation and interpret its results from days to hours or minutes without consulting a simulation expert. For example, in the event of unplanned machine failures or material shortages, various solution scenarios can be evaluated within a very short time using simulation.
Motivation
With digital twins of machinery at their disposal, production site managers and equipment operators find it so much easier to plan new production processes and optimize their value chains. For example, a virtual model of equipment or plants enables them to spot bottlenecks during the planning phase before they install machines or build an entire factory. The digital twin can then serve to validate the effectiveness of optimization measures.
Machine and systems manufacturers can also simulate their products to gain the competitive edge. A manufacturer can use a custom simulation kit to advise customers in the most efficient of ways. Product simulations are also powerful tools for integrating systems into the customer's manufacturing environment. They help provide the best fit and facilitate commissioning. This creates tremendous value for the manufacturer and customer alike.
Additionally, simulation can also serve as a tool for questions outside the production area. For example, the entire logistics chain (both intra- and interlogistics) can be mapped. In this way, the fleet management of the electric vehicle fleet of transport and postal carriers can be optimized by means of simulations.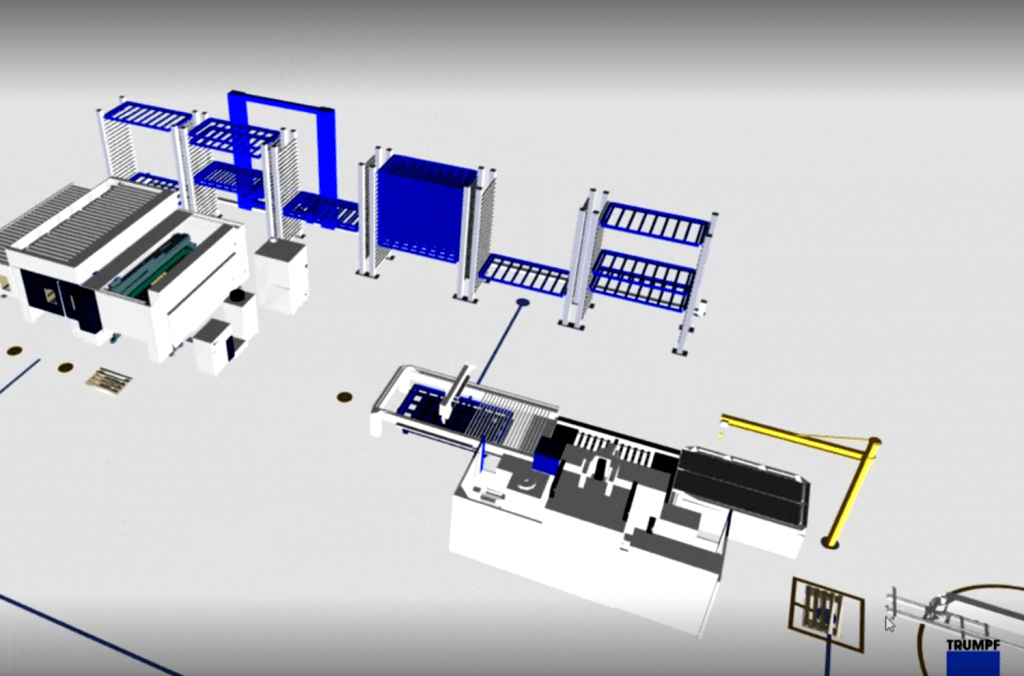 Simulation at Trumpf
Learn how our customer TRUMPF Werkzeugmaschinen optimized its manufacturing and logistics processes using simulation and thereby increased its productivity.
Solving problems & creating value
With our firm grasp of simulation and interdisciplinary methods, we are able to simulate production lines very quickly to meet your unique requirements and to integrate these into a customer-specific IT landscape.
Simulations are a fast, easy way of rendering very precise digital models of production lines and factories. They are powerful tools that manufacturing companies and machine and systems vendors can use to plan their production runs, scale their plants to size, and monitor operations.
And all this with the aim of converting the simulation into an everyday tool in order to make it as versatile as possible, durable, and usable without simulation experts.
Webinar: Digital factory twin
Get to know innovative approaches to factory simulation in this webinar. Learn how our professionals apply and automate insights gleaned from simulations of manufacturing systems based on two use cases.