Simplifying complex work processes
Our customer needed software tailored to the company's lab equipment to manage and execute measurement and control tasks. We delivered a solution featuring a modular user interface.
The challenge: How to continuously monitor and document measured values
Regulations for pharmaceuticals set out clearly defined thresholds and quality criteria. This is why a monitoring software for lab equipment has to track and document many different variables such as temperature and humidity, continuously and reliably. Any deviation that goes undetected can compromise product safety and efficacy. Often, there are many devices to be tracked. Even so, the user has to be able to keep an eye on them all and respond quickly.
APT-COM™ multi-management software
This monitoring software provides a big-picture view of many devices in real time to intuitively manage, capture, and document measured values.
The solution: An intuitive tool to monitor and manage lab equipment
A lab equipment manufacturer tasked us to deliver new device management software to control connected devices for use cases in science and commercial labs. We came up with a user-friendly solution that handles intuitively. The user interface provides a quick overview of all connected devices and the measured values they take in real time. Devices can be individually configured remotely and inconsistencies can be quickly localized and corrected. An analysis tool documents and exports all data at the touch of a button. We can
Provide connectivity for existing devices from the product portfolio
Create a room planning module to localize devices
Enable live notification of events/ alarms on the devices and real-time display of physical parameters
Furnish a program manager to create the projected physical sequences on the devices
Integrate the latest I4.0 protocols, e.g. for predictive maintenance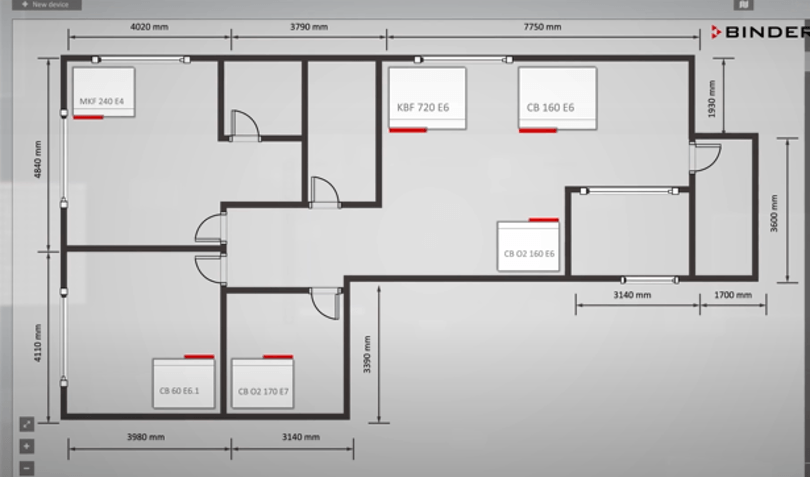 Drafting a room plan goes quick and easy with this solution, which makes mapping the devices' positions so each easier. In the event of an alarm, the affected device is marked in red for effortless identification and localization.
The added value: Intuitive, user-friendly handling for a host of devices and features
The operator can use this software to centrally control many laboratory devices and remotely monitor physical processes in real time. With our agile development methods, we were able to implement a wide range of functions in the software. The user interface handles intuitively despite the great complexity of this use case. And courtesy of its modular architecture, this software is readily maintainable and extensible.