State-of-the-art software development with the ITK CI/CD toolchain
What does it take to be agile enough to develop premium software, tame mounting complexity, and satisfy the rigorous demands of safety-critical applications – and all while defying the pressure of rapid release cycles? We have the answer – a toolbox brimming with state-of-the-art agile development assets such as ITK CI/CD toolchain developed by our experts at ITK.
One for all: A single toolchain for all lines of business and customers
Our experts make the most of the certified ITK Engineering toolchain to develop software for diverse lines of business, particularly automotive, medical, and railway engineering. Rapid release cycles and high quality are two welcome outcomes of continuous integration, continuous delivery, and SysDevOps. These methods invest us with the agility needed to design, develop, and deliver innovative software solutions.
This toolchain covers every juncture of analytics-driven quality assurance and testing. Many steps are automated to avoid the errors that can come of humans executing tasks manually. The toolchain itself has been verified and validated to prevent it from introducing bugs. There is zero risk of it compromising functional safety. Customers also benefit from the ITK Engineering development platform. Our specialists know how to help you build, deliver, maintain, and certify toolchains. Feel free to draw on this treasure-trove of knowledge.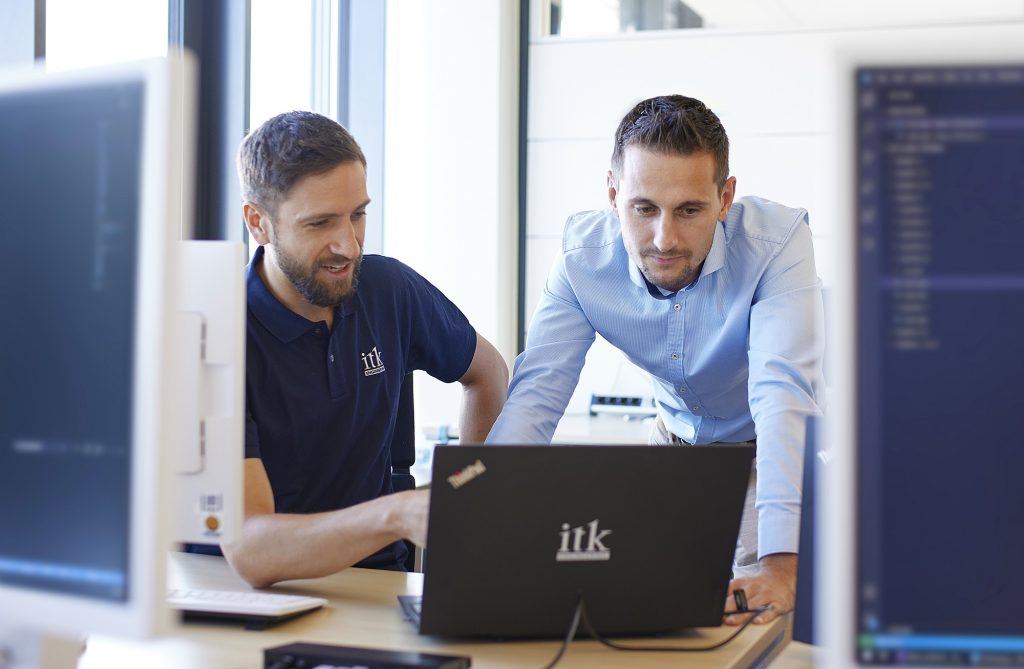 An integrated toolchain for abiding software development success
Continuous integration and continuous delivery methods are excellent ways of detecting and fixing bugs at every stage of quality assurance and testing. This is why the CI/CD toolchain is such a valuable asset for custom developments – it supports these efforts from the inceptive phase. Of course, the technical architecture is instrumental in enabling this state-of-the-art method of efficient software development.
Putting companies on the path to achieving and sustaining long-term market success, the benefits of CI/CD extend across the development cycle. It
Furnishes early feedback on the software's status
Enables engineers to continuously develop, test, and improve software
Assures a consistently high level quality for all components from the individual part to the production line
Accelerates new functions' time to market
Is flexible enough to accommodate any sample and variant
Provides stable software, including a toolchain engineered for high long-term productivity
Reduces maintenance costs
Eases the transition to continuous integration, continuous delivery, and continuous systems engineering (SysDevOps)
Safety certification for the ITK CI/CD toolchain
TÜV SÜD certified ITK's toolchain to the TCL1 standard (up to ASIL D). The product of a modern software engineering culture, it provides an agile, transparent, and uniform path for ITK Engineering developers to follow. Of course, we apply this certified toolchain in our development projects, but we also advise customers who wish to engineer toolchains of their own tailored to their particular needs.
The TÜV SÜD seal certifies ITK Engineering as being 'FIT for purpose TCL 1 (up to ASIL D).' These credentials confirm our ability to adeptly handle underlying CI/CD tools. They also affirm that ITK's manuals and checklists ensure the toolchain is put to proper compliant use.