ITK Transparency Toolkit in action: Determining OEE at the Bosch Rexroth plant
Do you rely on intuition or do you prefer to make data-driven decisions when planning and implementing your manufacturing processes? Would you like to benefit from the advantages of digital transformation, but are not sure exactly which data your Industry 4.0 use case requires? If so, we can provide precisely the support you need with our Transparency Toolkit, developed specifically for this purpose.
Data availability is a key prerequisite for implementing Industry 4.0 use cases. The right data has to be accessible at the right time in the right place. It data can be sourced from legacy IT systems (ERP, MES) as well as from up-and-running machines. Focusing on smart data rather than big data, Bosch Rexroth's Lohr plant uses the Transparency Toolkit to capture this data – accurately and in an economically efficient way.
Challenge: Manage manufacturing processes efficiently
Every case is different. The value-add of Industry 4.0 use cases has to be assessed individually based on the production lines in place. Data from existing machines has to be collected and analyzed to make this evaluation. This data is often digitally unavailable or in an unsuitable format, so gathering it is among the greatest challenges.
A common goal is to discover how efficiently resources are used in production. The first step is to measure manufacturing performance. Once the metrics have been identified, processes can be singled out for improvement. And it is imperative that the solution integrates seamlessly into the legacy system.
Case study: Monitoring a machine to manage production
The Transparency Toolkit was interfaced with a milling machine at the Lohr plant to collect data directly from its control system.
Installation takes place directly on site at the machine. The size of the transparency tool kit corresponds to a toolbox. More than 40 signals were tracked during production to determine machine performance based on specified KPIs.
This monitoring addresses key parameters – the current material number, the active manufacturing program, the part counter, the machine status (in production, in setup, in maintenance), error messages, and quality indicators.
With the Transparency Kit, data acquisition processes can be configured to collect only the required data. Quick and easy to install, it is also compatible with most machines and equipment on the market. That makes it very flexible indeed.
Solution: Determine overall equipment effectiveness (OEE) as a KPI
An on-site analysis of processes determined overall equipment effectiveness as the key performance indicator for managing production. OEE is a common performance metric in manufacturing. Providing a baseline for comparison with the perfect production line, it serves to rank equipment productivity and target improvements. The formula for calculating OEE factors in the availability, performance, and quality of the production line (OEE = availability x performance x quality).
The data needed to calculate OEE was captured in the monitoring and data gathering phase. OEE was then visualized in an interactive dashboard using key production parameters – that is, parts produced, current series of parts, scrap, machine availability, and the like. Fault alerts are among the most important assets for calculating OEE. They serve to determine and improve availability. Fault alerts also help explain a low OEE score. The dashboard displays these alerts as error messages. The system may also be configured to send alerts to the designated supervisors.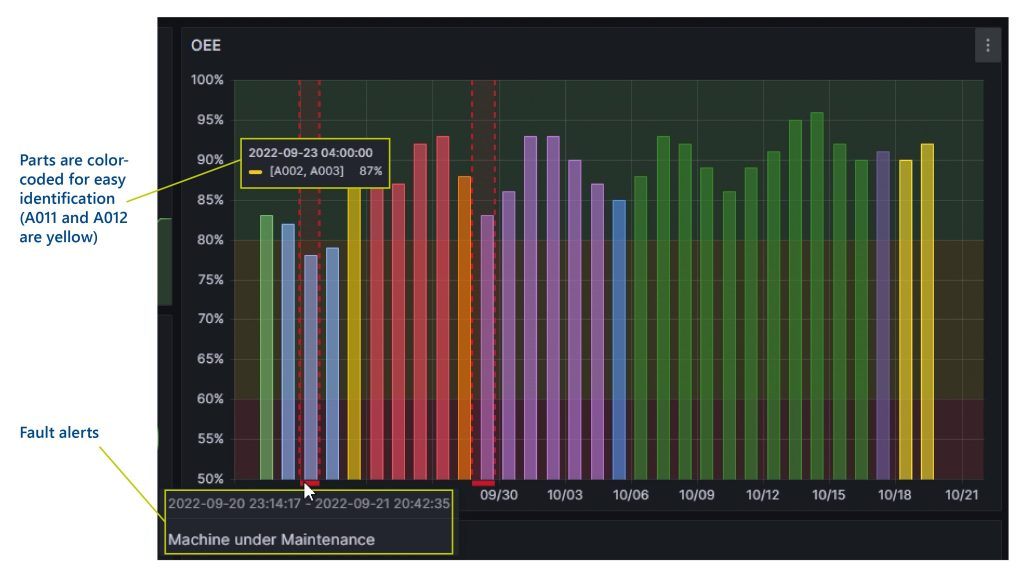 Basis: Fast data acquisition and visualization with the Transparency Toolkit
A portable and easy-to-set-up prototyping kit, the ITK Transparency Toolkit consists of an array of components serving to acquire data from various vendors' machines and devices via standard communication protocols (OPC UA, MQTT, AMQP, DDS). It can be adapted to your processes by integrating additional external sensors.
With its great versatility, the Transparency Toolkit is well suited for diverse Industry 4.0 use cases, such as production monitoring, condition monitoring, predictive maintenance, predictive quality testing, and tool management. It can even help optimize energy consumption.
The Transparency Toolkit's value-add/ benefits at a glance:
Enables hypotheses about the customer's system to be tested based on collected raw data
Provides a cost-effective, easy-to-set up data acquisition system to quickly analyze the potential of use cases within the scope of small projects
Affords deeper insight into the system by visualizing internal cause-and-effect relationships
Integrates with legacy setups that can be interfaced with external SCADA, MES, ERP, and other systems